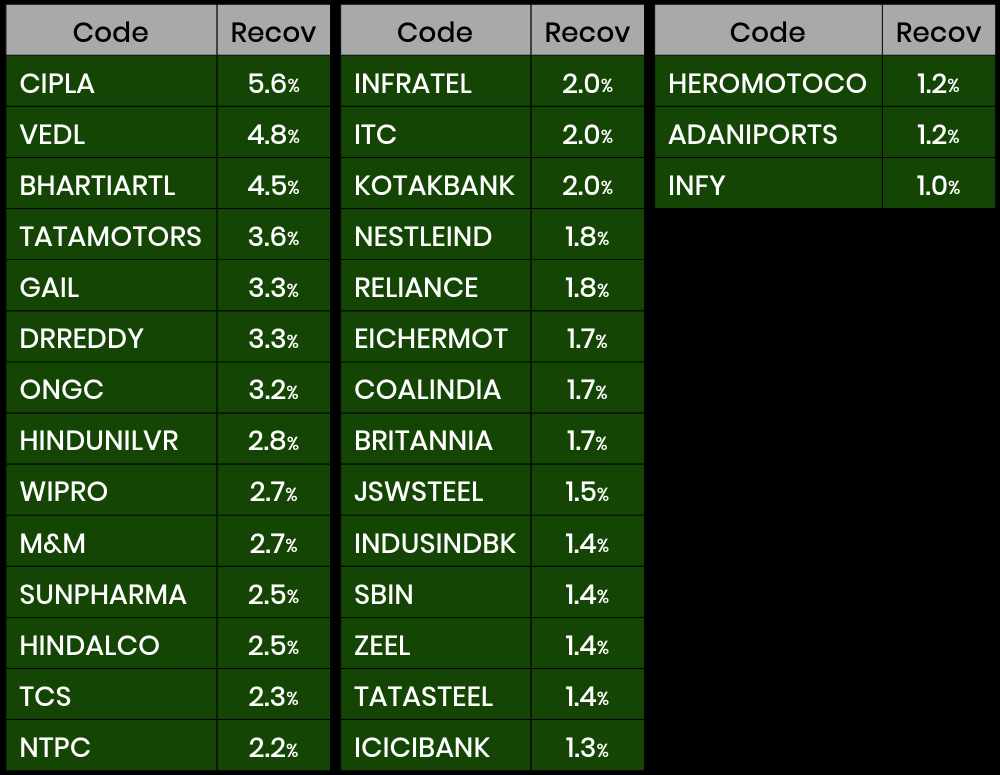 Overall a bad day for the market (till 12:30pm) with both Indian stock market indices Nifty and Sensex dropped almost 5% in the morning trade followed by a negative sentiments in the Asian markets and extension of the lock down in India for another two weeks. Reliance Industries reported last quarter results last week and that too was not encouraging for the markets.
Above list shows major recoveries in the Nifty 50 stocks from it's day's low. Stocks like Cipla, Vedanta, Bharti Airtel, Tata Motors, Gail, Dr Reddy and Ongc recovered more than 3% from their respective day's low in the first few hours of trading Today (4th May 2020). Hindustan Unilever, Wipro, M&M, Sun Pharma, Hindalco, TCS, NTPC, Infratel, ITC and Kotak Bank also recovered more than 2% in this extremely negative market today. But indices Sensex and Nifty not showing any major recovery. Both started with a very strong negative mood with loosing almost 5% in the first few minutes of trading itself and sustaining that level as of now (12:35pm).
European markets also expected to follow the same negative trend and already FTSE open with 2% cut. Since it is the beginning of the week we cannot say this trend will continue. Everything will depend on the opening of US markets today evening. At present Dow Jones Futures also down about 150 points pointing a weak opening for US markets too.
Even after many weeks of severe outbreaks of coronavirus covid-19 in Europe and US still there is no major respite and no major flattening of the curve as projected by many experts. So investors are worried about the continuous lock down across the world would seriously damage world economy much higher impact than everybody predicted initially.