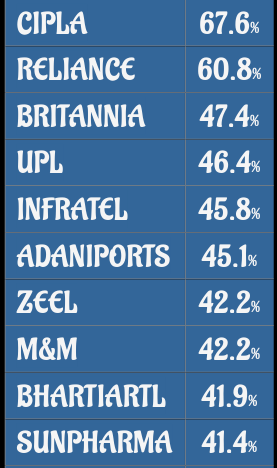 These are the stocks gained most since Indian market indices recent low on 23rd Mar 2020 due to corona virus covid 19 outbreak fears.
Stocks like CIPLA, RELIANCE, BRITANNIA, UPL, INFRATEL, ADANIPORTS, ZEEL, MM, BHARTIARTL, SUNPHARMA are the top gainer since the covid 19 march crash.
Cipla was the top gainer during the period with whopping 67.6% gain, followed by Reliance Industries with 60.8% due to the recent investment it received in Reliance Jio.
Britannia gained 47.4% during the period because it is mainly into food business and even in lock down food items are the main thing people purchase and it comes in essential items too so online shopping sites and super markets can sell their products without any restrictions.
Stocks like UPL, Infratel and Adani ports gained more than 45% during the last 2 months period. Zee, M&M, Airtel and Sun pharma also gained more than 41% since Mar 23 market low.
Even though these stocks performed well post the covid-19 march 2020 crash, it doesn't mean the same will continue because every day covid-19 cases in India are increasing and the curve is not yet flattened. Only respite is the resumption of train and flight services and relaxation of lock down. But that doesn't mean corona virus outbreak in India is in control and RBI already mentioned that current financial year GDP growth will be in negative territory. So be very careful while investing at current level because more downside possible from the current level in Indian markets.
Also both Sensex and Nifty50 weekly and monthly chart technical shows a bearish picture with monthly macd reached below zero level, that mean more downside ahead if things goes in this way. All over the world also corona out break still not in control and spreading to more and more countries. So it is better to sit with some cash. Also keep a note of the stocks in large, mid and small caps which performed very well in this last 2 months recovery period so that if market goes down further then you can accumulate these good quality stocks for long term.