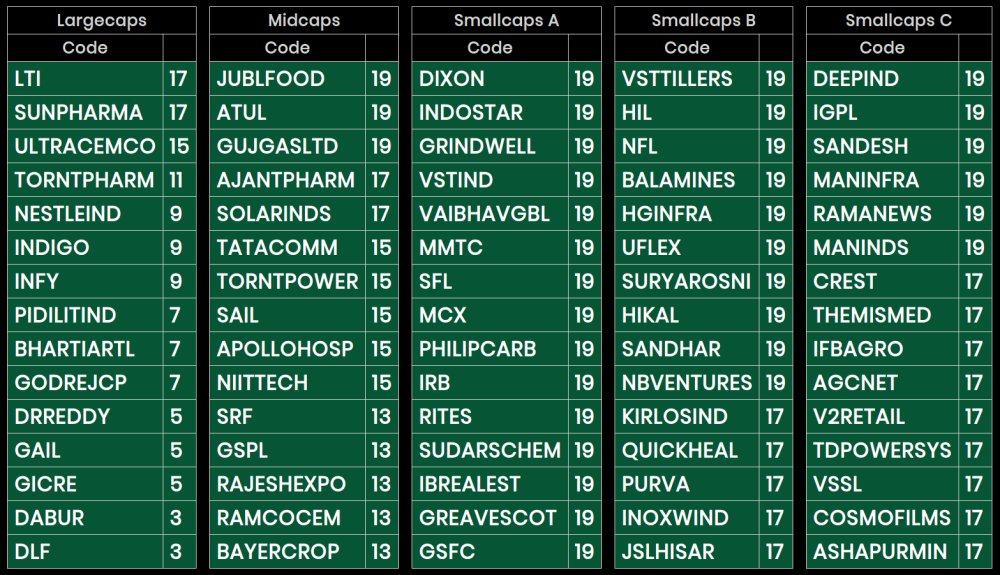 ADX Trending stocks in large, mid and small caps – Number of times positive ADX moved up during last 20 trading sessions. ADX is a stock technical indicator and it gives a clue about how strong the current trend.
In large caps LTI, SUNPHARMA, ULTRACEMCO, TORNTPHARM, NESTLEIND, INDIGO and INFY ADX moved up more than 9 times in last 20 sessions.
In midcaps JUBLFOOD, ATUL, GUJGASLTD, AJANTPHARM, SOLARINDS, TATACOMM, TORNTPOWER, SAIL, APOLLOHOSP and NIITTECH ADX were up 15 times or more out of 20 trading sessions.
In small caps A DIXON, INDOSTAR, GRINDWELL, VSTIND, VAIBHAVGBL, MMTC, SFL, MCX, PHILIPCARB, IRB, RITES, SUDARSCHEM, IBREALEST, GREAVESCOT and GSFC ADX were up 19 times out of 20.
In small caps B VSTTILLERS, HIL, NFL, BALAMINES, HGINFRA, UFLEX, SURYAROSNI, HIKAL, SANDHAR, NBVENTURES ADX up in 19 sessions out of 20 measured period.
In small caps C DEEPIND, IGPL, SANDESH, MANINFRA, RAMANEWS, MANINDS etc ADX were up 19 times during the 20 trading period.