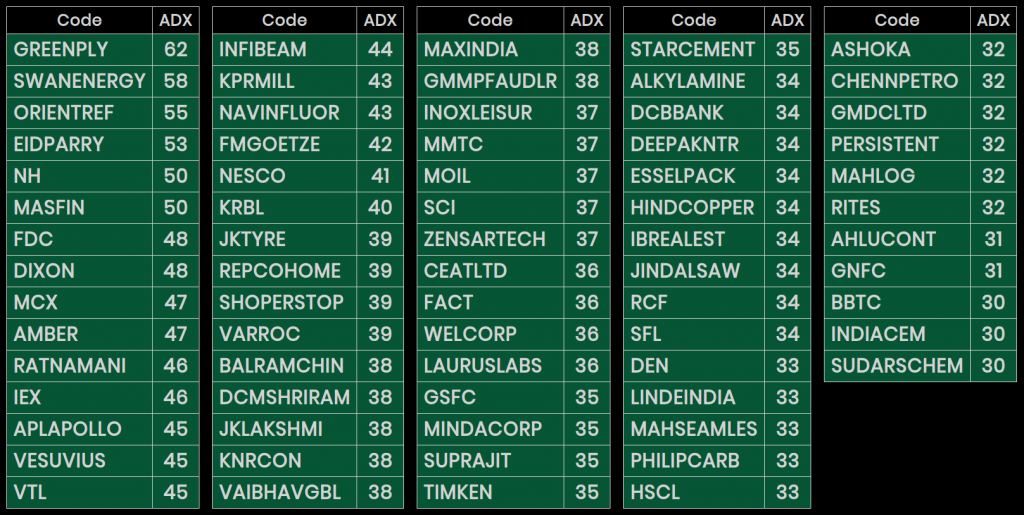 Small cap stocks have been showing some good positive movements in past few weeks after a gap of about two years. Small cap index also moving up slowly and that means investors are again showing interest in mid and small cap stocks.
GREENPLY, SWANENERGY, ORIENTREF, EIDPARRY, NH, MASFIN, FDC, DIXON, MCX, AMBER, RATNAMANI, IEX, APLAPOLLO, VESUVIUS, VTL, INFIBEAM, KPRMILL, NAVINFLUOR, FMGOETZE, NESCO and KRBL are now trading with ADX more than 40 and which is a very positive trend. But also check their respective RSI because due to the recent quick move in these stocks lead to spike in RSI and now many of them are in overbought levels. That doesn't mean anything wrong with the trend or stock but a short term consolidation possible if overall market consolidate at these levels.
JKTYRE, REPCOHOME, SHOPERSTOP, VARROC, BALRAMCHIN, DCMSHRIRAM, JKLAKSHMI, KNRCON, VAIBHAVGBL, MAXINDIA, GMMPFAUDLR, INOXLEISUR, MMTC, MOIL, SCI, ZENSARTECH, CEATLTD, FACT, WELCORP, LAURUSLABS, GSFC, MINDACORP, SUPRAJIT, TIMKEN and STARCEMENT are with ADX more than 35. These stocks also in a good positive trend but also watch their last quarter results and P/E ratios before investing.