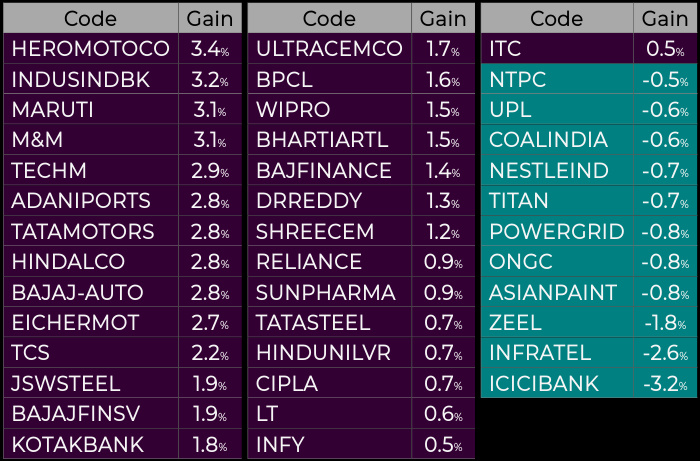 Today markets are trading with good gains at 11:59am with indices up almost .6%. Hero Motors, Indusind Bank, Maruti, Mahindra up, icici bank, infratel down.
Gainers : Hero MotoCorp (3.4%), IndusInd Bank (3.2%), Maruti Suzuki India (3.1%), Mahindra & Mahindra (3.1%), Tech Mahindra (2.9%), Adani Ports and Special Economic Zone (2.8%), Bajaj Auto (2.8%), Tata Motors (2.8%), Hindalco Industries (2.8%), Losers : ICICI Bank (-3.2%), Bharti Infratel (-2.6%), Zee Entertainment Enterprises (-1.8%), Asian Paints (-0.8%), Oil & Natural Gas Corporation (-0.8%), Power Grid Corporation of India (-0.8%)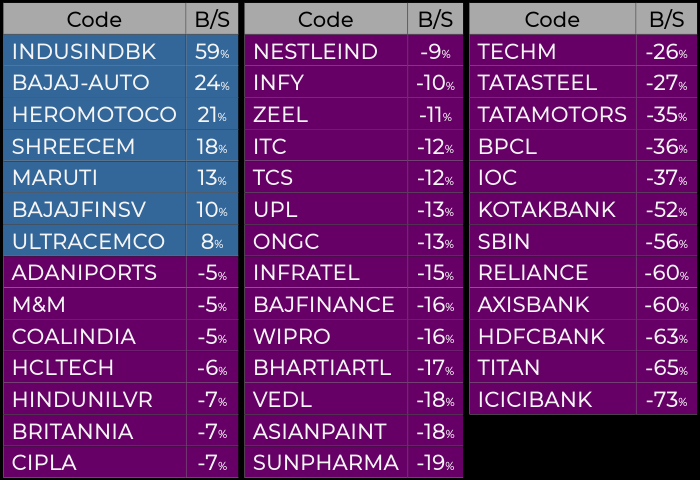 But buy and sell bids chart shows a different picture. Sell orders are high in many top stocks indicating a negative bias persists in the markets. If europe failed to open in green then chances of our markets going down from current level possible.
Top Buy Bids : IndusInd Bank (59%), Bajaj Auto (24%), Hero MotoCorp (21%), Shree Cement (18%), Maruti Suzuki India (13%), Bajaj Finserv (10%), Top Sell Bids : ICICI Bank (-73%), Titan Company (-65%), HDFC Bank (-63%), Axis Bank (-60%), Reliance Industries (-60%), State Bank of India (-56%), Kotak Mahindra Bank (-52%), Indian Oil Corporation (-37%), Bharat Petroleum Corporation (-36%)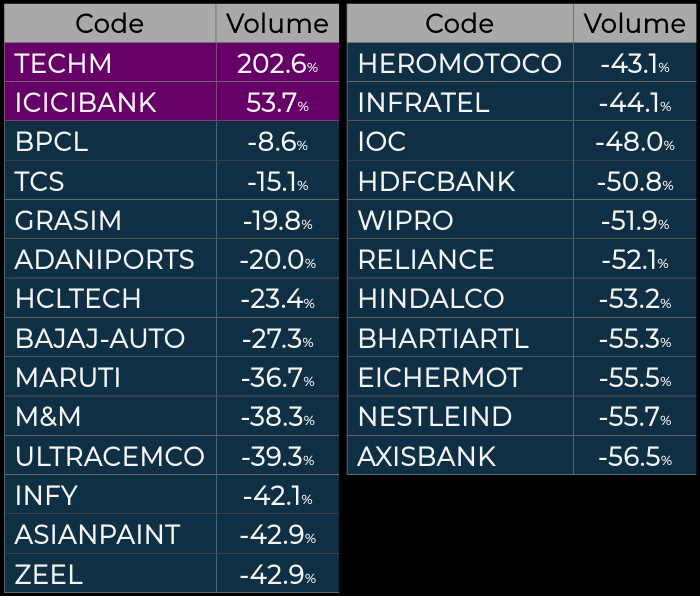 Tech Mahindra and ICICI Are top two Volume Gainers in nifty : Tech Mahindra (202.6%), ICICI Bank (53.7%), Bharat Petroleum Corporation (-8.6%), Tata Consultancy Services (-15.1%), Grasim Industries (-19.8%)
Major Recoveries Today : Mahindra & Mahindra (4.1%), Maruti Suzuki India (3.3%), Hero MotoCorp (3.3%), Adani Ports and Special Economic Zone (3.1%), Bajaj Auto (2.8%), Eicher Motors (2.6%), Hindalco Industries (2.6%), Tech Mahindra (2.5%), Tata Motors (2.5%), Bharti Airtel (2.3%), IndusInd Bank (2.2%), Kotak Mahindra Bank (2.1%), Axis Bank (2.0%), Cipla (2.0%), Bajaj Finserv (1.9%)
Major Drops Today : ICICI Bank (-4.6%), Zee Entertainment Enterprises (-3.6%), Bharti Infratel (-3.1%), Tech Mahindra (-2.7%), Bharat Petroleum Corporation (-1.9%), Titan Company (-1.8%), Vedanta (-1.6%), Asian Paints (-1.6%), Axis Bank (-1.5%), HDFC Bank (-1.5%), HCL Technologies (-1.4%), UPL (-1.4%), Oil & Natural Gas Corporation (-1.4%), Nestle India (-1.4%), Indian Oil Corporation (-1.4%)