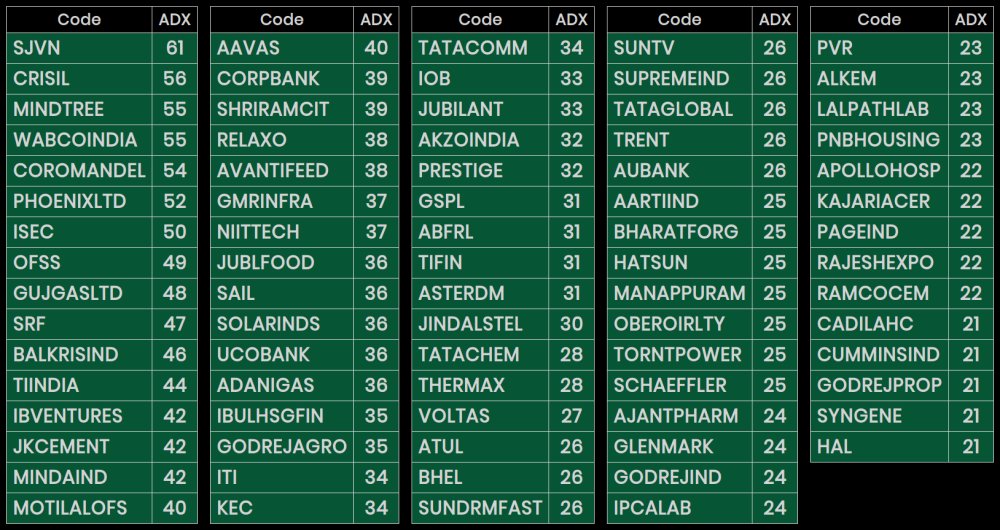 Top trending midcaps in BSE and NSE – ADX with more than 20 in the positive territory.
Stocks with more than 50 ADX in midcaps list are SJVN, CRISIL, MINDTREE, WABCOINDIA, COROMANDEL, PHOENIXLTD, and ISEC. Stocks like OFSS, GUJGASLTD, SRF, BALKRISIND, TIINDIA, IBVENTURES, JKCEMENT, MINDAIND, MOTILALOFS and AAVAS are with more than 40 ADX which shows they are too in very strong positive trend as per technical term.s
CORPBANK, SHRIRAMCIT, RELAXO, AVANTIFEED, GMRINFRA, NIITTECH, JUBLFOOD, SAIL, SOLARINDS, UCOBANK, ADANIGAS, IBULHSGFIN, GODREJAGRO, ITI, KEC, TATACOMM, IOB, JUBILANT, AKZOINDIA, PRESTIGE, GSPL, ABFRL, TIFIN, ASTERDM and JINDALSTEL are with ADX above 30 and that too show they are technically in good position.
But also check their respective RSI also to find out whether stock in overbought position or not. Always use 2-3 indicators to judge a stocks performance because one alone will not give clear picture about its overall strength, overbought/oversold levels etc. Also keep an eye on stocks P/E ratio, EPS, quarterly and yearly performance etc before putting money because technical indicator are just an indication about the current trend only. Also keep track of Indian and other world indices, open interest of Nifty and Bank Nifty etc because so many factors affect a stocks performance.