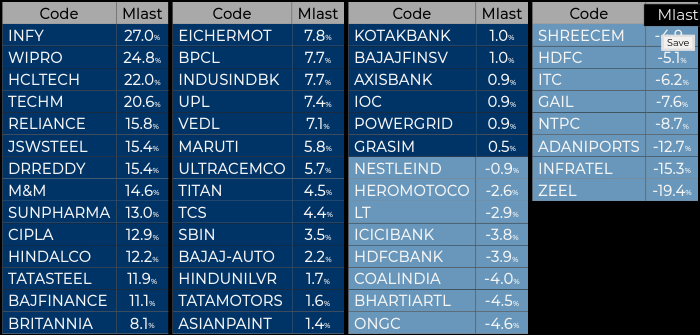 This list shows Nifty 50 stocks performance for the month of July 2020. IT stocks performed very well in last one month period after a better than expected quarterly results from the IT majors. Infosys, Wipro, HCL Technologies and Tech Mahindra up more than 20% during the period. Other stocks which gained more than 10% are Reliance, Jsw steel, Dr Reddy, Mahindra and Mahindra, Sun Pharma, Cipla, Hindalco, Tata Steel and Bajaj Finance.
In the losers side only 3 stocks lost more than 10% during the period – Zeel, Infratel and Adani Ports. Overall it was a good performance by Indian markets in the month of July 2020. Most of the Index stocks gained during the period even though overall economic and other conditions are not in favor globally and locally. Markets ignored increasing corona virus covid 19 cases in India and as well as many foreign countries including US. Also many companies reported better than expected earnings in the April-June quarter defying the lock down and corona virus related slowdown. But the real test is about to come in the coming quarters. But market seems to be hopeful about a vaccine to end this corona related issues.
Anyway it is better to be very cautious at this juncture because markets stretched too much at this level and it does not reflect the real economic conditions globally and locally may be due to the cheap money available. But soon or later markets will realize the reality and can come down further if vaccine development delayed. So it is better to book some profits and sit with some cash too.