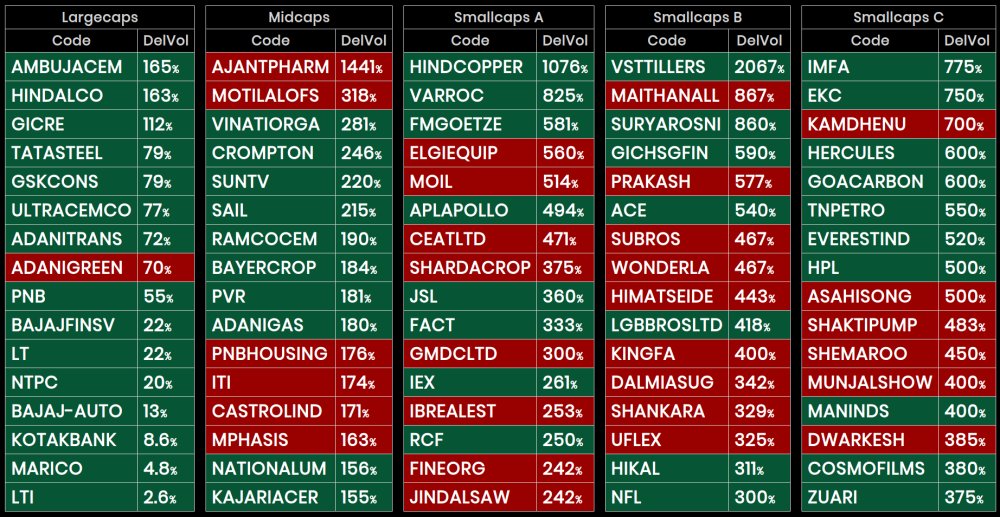 Delivery based volume gainers – excluding day trade volumes. This gives a more clear picture about investor minds and their favorites buy and sell stocks because majority of the volume come in the day trade category. So if we take overall volume mostly it reflects only money flowing in the day trades. But this gives more accurate data about investor stocks.
In largecap category AMBUJACEM, HINDALCO, GICRE, TATASTEEL, GSKCONS, ULTRACEMCO, ADANITRANS, ADANIGREEN, PNB etc attracted more money and in this section only Adani green closed in red.
In midcaps AJANTPHARM, MOTILALOFS, VINATIORGA, CROMPTON, SUNTV, SAIL, RAMCOCEM, BAYERCROP, PVR, ADANIGAS, PNBHOUSING, ITI, CASTROLIND, MPHASIS, NATIONALUM and KAJARIACER traded with more volumes compared to other stocks in this section.
In smallcaps first group HINDCOPPER, VARROC, FMGOETZE, ELGIEQUIP, MOIL, APLAPOLLO, CEATLTD, SHARDACROP, JSL, FACT, GMDCLTD, IEX, IBREALEST, RCF, FINEORG and JINDALSAW traded with good volumes.
In smallcaps B category VSTTILLERS, MAITHANALL, SURYAROSNI, GICHSGFIN, PRAKASH, ACE, SUBROS, WONDERLA, HIMATSEIDE, LGBBROSLTD, KINGFA, DALMIASUG, SHANKARA, UFLEX, HIKAL and NFL witnessed more money flow than other stocks.
In small caps C group IMFA, EKC, KAMDHENU, HERCULES, GOACARBON, TNPETRO, EVERESTIND, HPL, ASAHISONG, SHAKTIPUMP, SHEMAROO, MUNJALSHOW, MANINDS, DWARKESH, COSMOFILMS and ZUARI traded with good volumes.