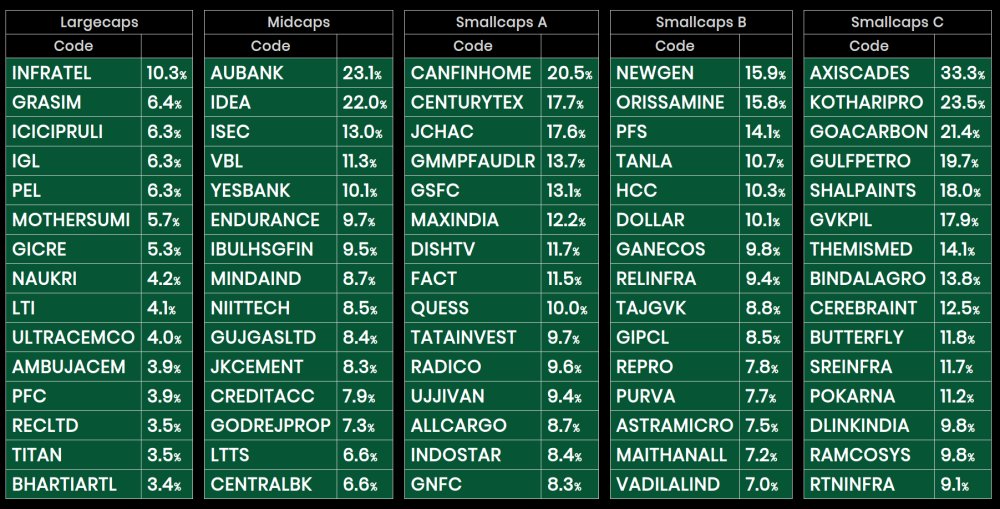 In largecaps INFRATEL, GRASIM, ICICIPRULI, IGL, PEL, MOTHERSUMI, GICRE, NAUKRI, LTI, ULTRACEMCO, AMBUJACEM, PFC, RECLTD, TITAN and BHARTIARTL closed the week with good gains.
In midcap stocks AUBANK, IDEA, ISEC, VBL, YESBANK, ENDURANCE, IBULHSGFIN, MINDAIND, NIITTECH, GUJGASLTD, JKCEMENT, CREDITACC, GODREJPROP, LTTS and CENTRALBK ended week with reasonable gains compared to other stocks in this category.
In smallcaps A group CANFINHOME, CENTURYTEX, JCHAC, GMMPFAUDLR, GSFC, MAXINDIA, DISHTV, FACT, QUESS, TATAINVEST, RADICO, UJJIVAN, ALLCARGO, INDOSTAR and GNFC zoomed during the week.
In smallcaps B section NEWGEN, ORISSAMINE, PFS, TANLA, HCC, DOLLAR, GANECOS, RELINFRA, TAJGVK, GIPCL, REPRO, PURVA, ASTRAMICRO, MAITHANALL, VADILALIND etc attracted more money and closed with good gains.
In smallcaps C category AXISCADES, KOTHARIPRO, GOACARBON, GULFPETRO, SHALPAINTS, GVKPIL, THEMISMED, BINDALAGRO, CEREBRAINT, BUTTERFLY, SREINFRA, POKARNA, DLINKINDIA, RAMCOSYS and RTNINFRA ended the week in good positive mood.