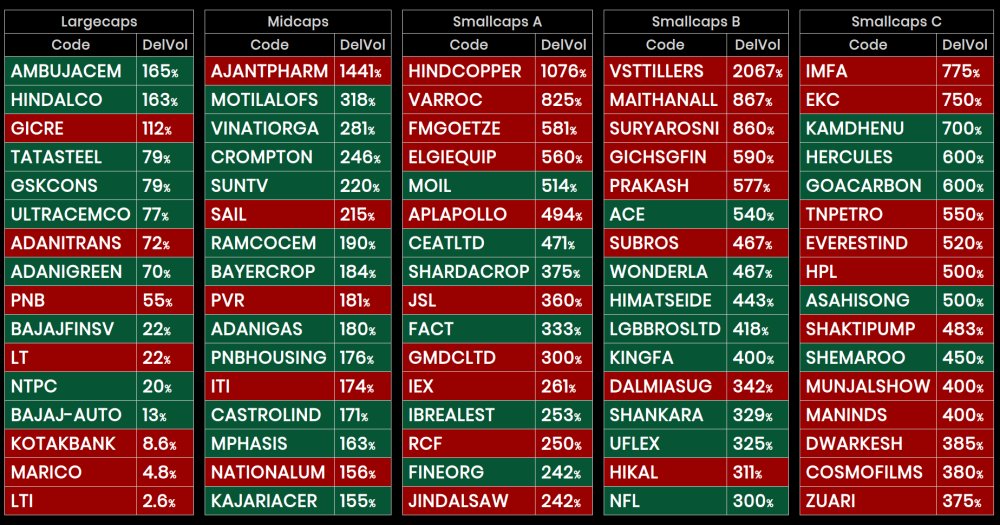 Delivery based Volume Gainers on 17th Jan 2020 – Volume data excluding day trades for a more clear picture.
In large caps stocks AMBUJACEM, HINDALCO, GICRE, TATASTEEL, GSKCONS, ULTRACEMCO, ADANITRANS, ADANIGREEN and PNB traded with 50% extra delivery volumes in which Gicre, adani trans and pnb closed in red.
In mid cap stocks BAJAJFINSV, LT, NTPC, BAJAJ-AUTO, KOTAKBANK, MARICO, LTI, AJANTPHARM, MOTILALOFS, VINATIORGA, CROMPTON, SUNTV, SAIL, RAMCOCEM, BAYERCROP, PVR and ADANIGAS trades zoomed 180% or more in yesterday's trade.
In small cap A stocks HINDCOPPER, VARROC, FMGOETZE, ELGIEQUIP, MOIL, APLAPOLLO, CEATLTD, SHARDACROP, JSL, FACT and GMDCLTD traded with more than 300% volumes in delivery terms.
In small cap B stocks VSTTILLERS, MAITHANALL, SURYAROSNI, GICHSGFIN, PRAKASH, ACE, SUBROS, WONDERLA, HIMATSEIDE, LGBBROSLTD, KINGFA traded with 400%+ volumes excluding day trades.
In small cap C stocks IMFA, EKC, KAMDHENU, HERCULES, GOACARBON, TNPETRO, EVERESTIND, HPL, ASAHISONG etc traded with heavy volumes yesterday.