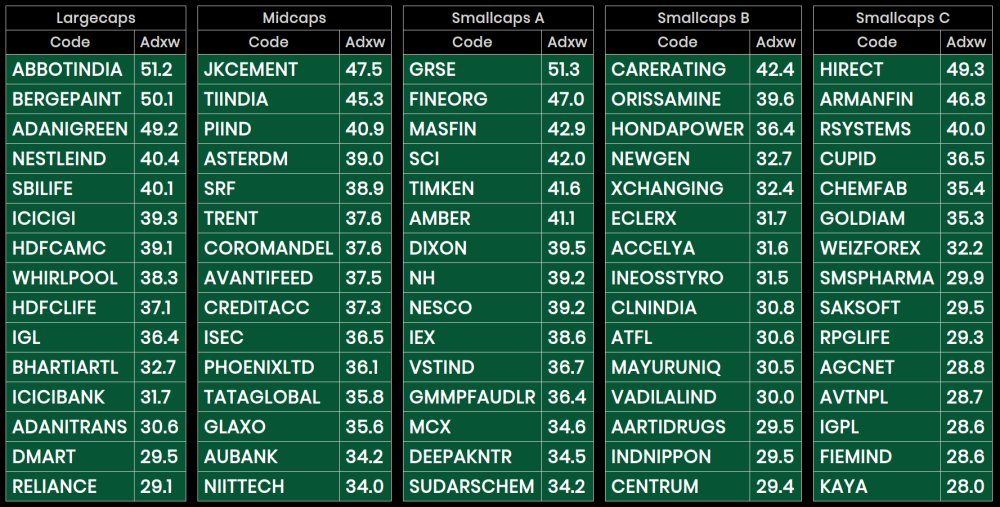 Here is a list of stocks with high ADX in the weekly chart. A positive high ADX in the weekly chart indicates medium to long term positive trend. Even if there is any fluctuations in the short term a high +ve weekly ADX indicates a good momentum in long term. But also check other fundamental parameters and other technical indicators before investing.
In large caps ABBOTINDIA, BERGEPAINT, ADANIGREEN, NESTLEIND, SBILIFE, ICICIGI, HDFCAMC, WHIRLPOOL, HDFCLIFE, IGL, BHARTIARTL, ICICIBANK, ADANITRANS etc are with weekly ADX of 30 or more as of 24th Jan 2020.
JKCEMENT, TIINDIA, PIIND, ASTERDM, SRF, TRENT, COROMANDEL, AVANTIFEED, CREDITACC, ISEC, PHOENIXLTD, TATAGLOBAL, GLAXO, AUBANK and NIITTECH are with more than 30 positive ADX in the weekly charts in midcap stocks.
In small caps A stocks GRSE, FINEORG, MASFIN, SCI, TIMKEN, AMBER, DIXON, NH, NESCO, IEX, VSTIND, GMMPFAUDLR, MCX, DEEPAKNTR, SUDARSCHEM etc with more than 30 weekly positive ADX.
In small caps B CARERATING, ORISSAMINE, HONDAPOWER, NEWGEN, XCHANGING, ECLERX, ACCELYA, INEOSSTYRO, CLNINDIA, ATFL, MAYURUNIQ, VADILALIND etc are with more than 30 +ve weekly ADX.
In small caps C AARTIDRUGS, INDNIPPON, CENTRUM, HIRECT, ARMANFIN, RSYSTEMS, CUPID, CHEMFAB, GOLDIAM, WEIZFOREX etc are with 30+ weekly ADX.
ADX is only indicating trend in the stock. Also check other indicators like RSI to find out overbought levels.