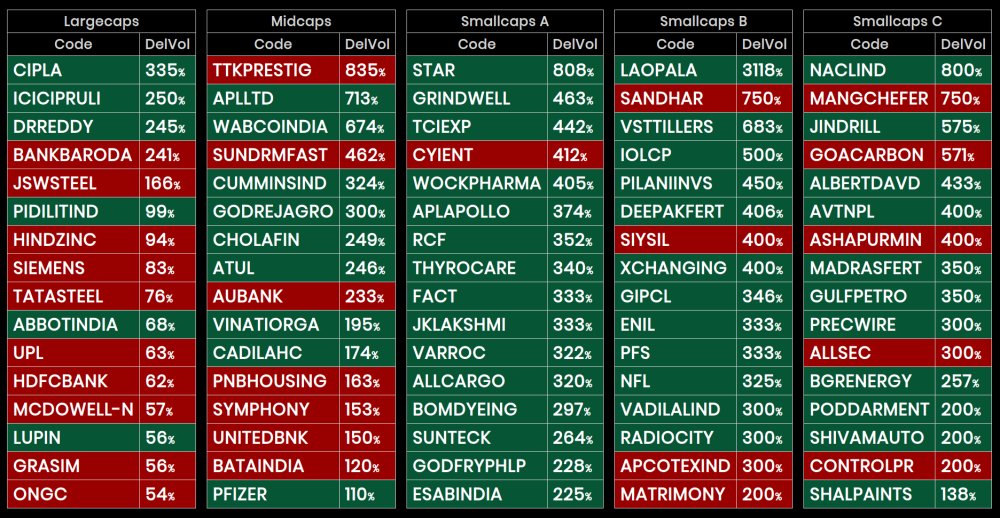 In large cap stocks CIPLA, ICICIPRULI, DRREDDY, BANKBARODA, JSWSTEEL, PIDILITIND, HINDZINC, SIEMENS, TATASTEEL, ABBOTINDIA, UPL, HDFCBANK, MCDOWELL-N, LUPIN, GRASIM, ONGC etc traded with more volumes today in delivery terms but majority of them closed in red by end of the day.
In mid cap stocls TTKPRESTIG, APLLTD, WABCOINDIA, SUNDRMFAST, CUMMINSIND, GODREJAGRO, CHOLAFIN, ATUL, AUBANK, VINATIORGA, CADILAHC, PNBHOUSING, SYMPHONY, UNITEDBNK, BATAINDIA, PFIZER etc traded with high volume excluding day trades and some of them closed in red.
In small cap stocks STAR, GRINDWELL, TCIEXP, CYIENT, WOCKPHARMA, APLAPOLLO, RCF, THYROCARE, FACT, JKLAKSHMI, VARROC, ALLCARGO, BOMDYEING, SUNTECK, GODFRYPHLP, ESABINDIA, LAOPALA, SANDHAR, VSTTILLERS, IOLCP, PILANIINVS, DEEPAKFERT, SIYSIL, XCHANGING, GIPCL, ENIL, PFS, NFL, VADILALIND, RADIOCITY, APCOTEXIND, MATRIMONY, NACLIND, MANGCHEFER, JINDRILL, GOACARBON, ALBERTDAVD, AVTNPL, ASHAPURMIN, MADRASFERT, GULFPETRO, PRECWIRE, ALLSEC, BGRENERGY, PODDARMENT, SHIVAMAUTO, CONTROLPR, SHALPAINTS etc closed trading session with higher volumes in delivery terms.