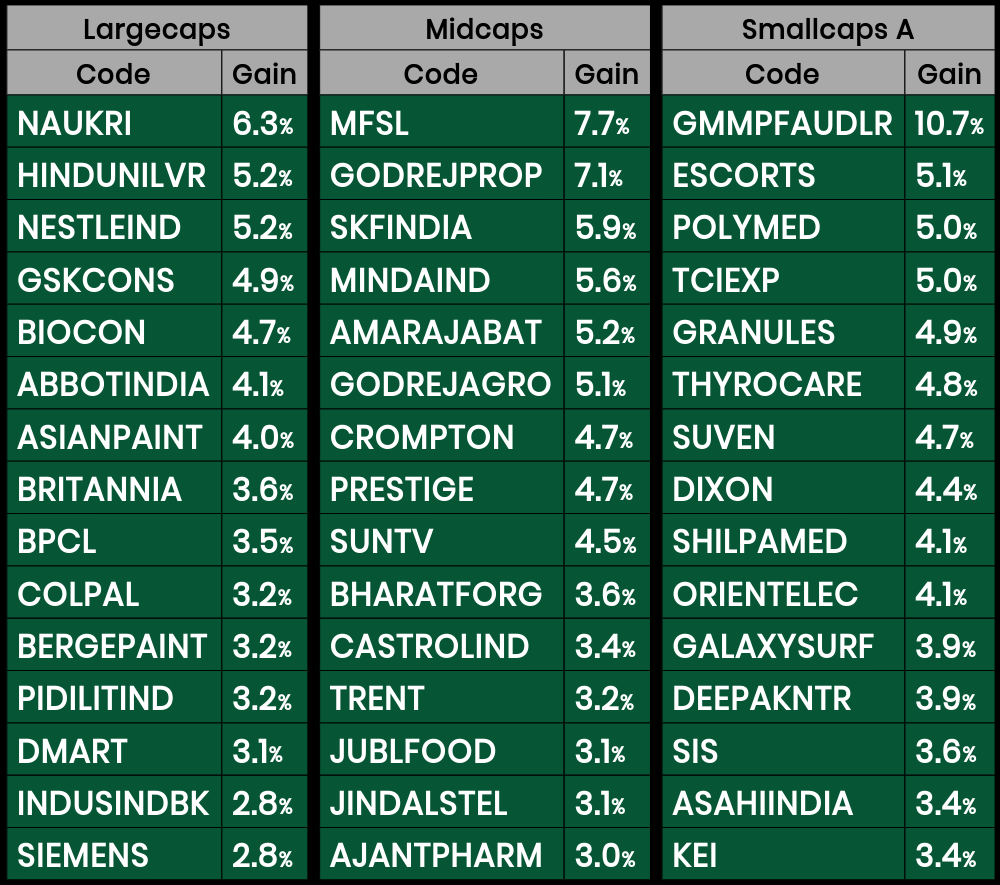 After big budget 2020 crash on Saturday indices are on a consolidation mode today and as of 12:15pm both Sensex and Nifty trading with slight positive gains.
In large caps stocks like NAUKRI, HINDUNILVR, NESTLEIND, GSKCONS, BIOCON, ABBOTINDIA, ASIANPAINT, BRITANNIA, BPCL, COLPAL, BERGEPAINT, PIDILITIND, DMART etc are trading with more than 3% gains.
In mid cap stocks MFSL, GODREJPROP, SKFINDIA, MINDAIND, AMARAJABAT, GODREJAGRO, CROMPTON, PRESTIGE, SUNTV are trading with 4%+ gains.
In small cap stocks GMMPFAUDLR, ESCORTS, POLYMED, TCIEXP, GRANULES, THYROCARE, SUVEN, DIXON, SHILPAMED, ORIENTELEC are now with more than 4% gains.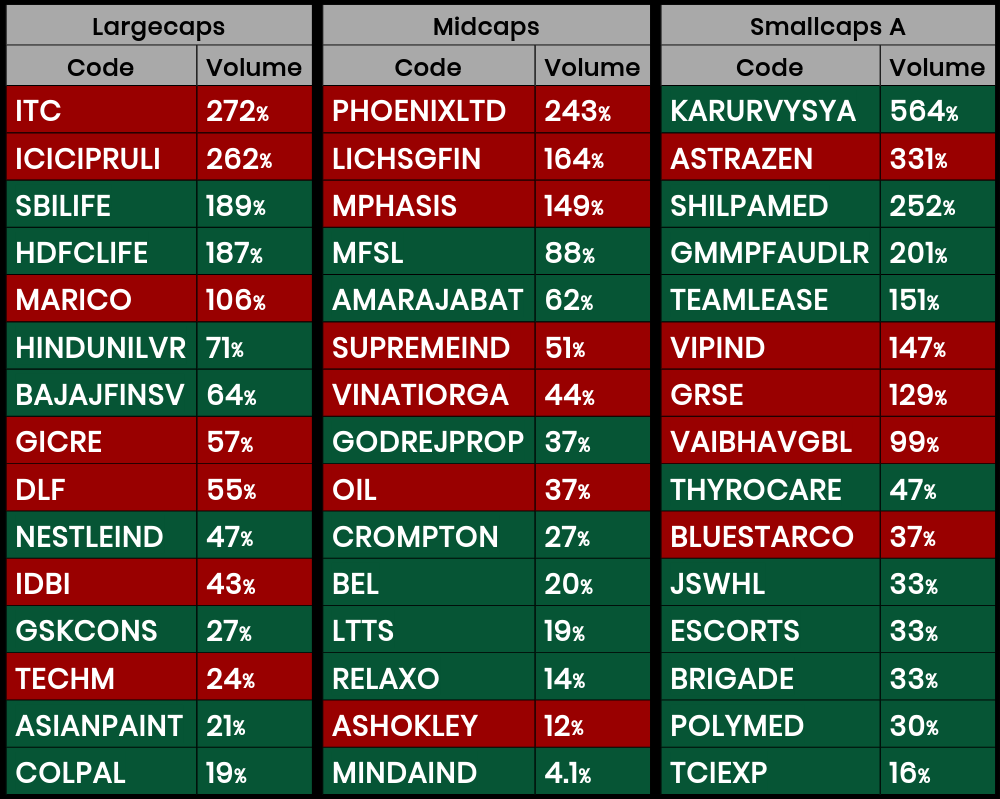 In the volume front insurance stocks are trading with high volumes. In large caps ITC, ICICIPRULI, SBILIFE, HDFCLIFE, MARICO are trading with double volume compared to 2 months average. In mid caps PHOENIXLTD, LICHSGFIN, MPHASIS, MFSL, AMARAJABAT, SUPREMEIND, VINATIORGA are trading with 50% or more volume by 12:15pm. In small caps KARURVYSYA, ASTRAZEN, SHILPAMED, GMMPFAUDLR, TEAMLEASE, VIPIND, GRSE, VAIBHAVGBL are trading with more than double volume.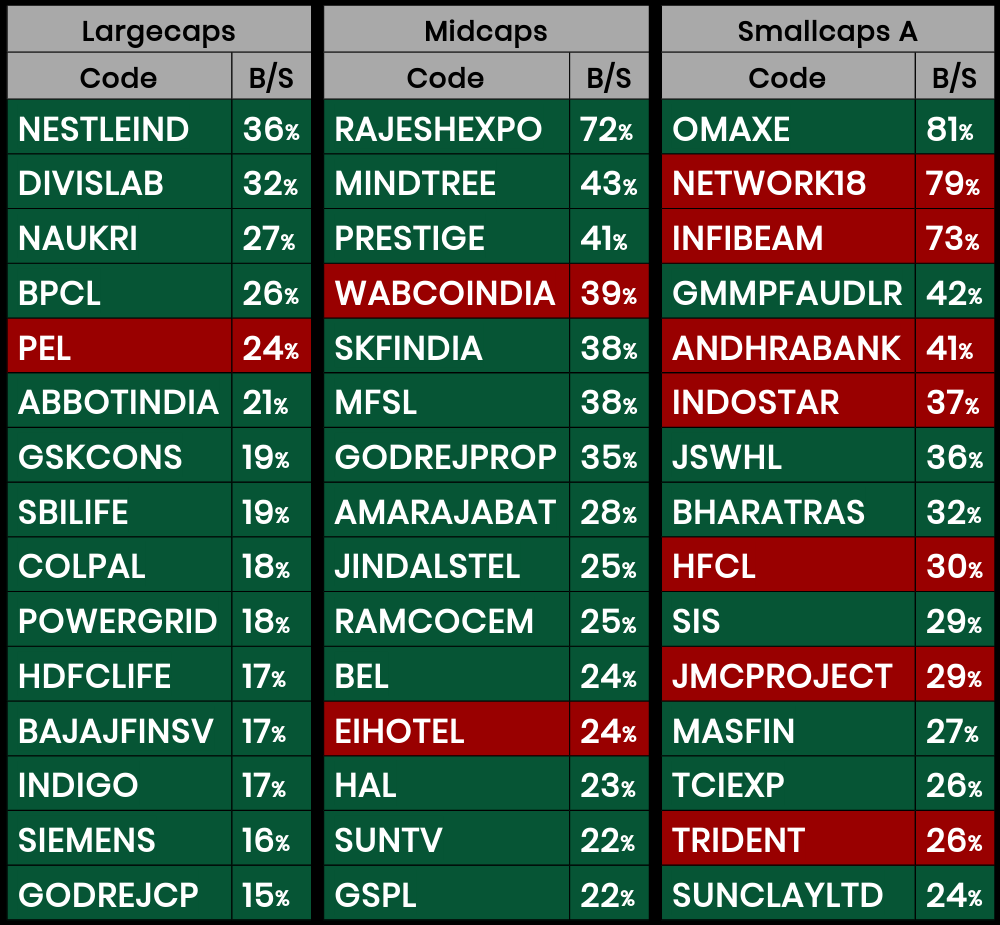 Top Buyer's stocks in the large caps category (Buy bids vs Sell bids) : NESTLEIND, DIVISLAB, NAUKRI, BPCL, PEL, ABBOTINDIA, GSKCONS, SBILIFE, COLPAL, POWERGRID, HDFCLIFE, BAJAJFINSV, INDIGO, SIEMENS, GODREJCP
Mid Cap Buyer's Favorite Today : RAJESHEXPO, MINDTREE, PRESTIGE, WABCOINDIA, SKFINDIA, MFSL, GODREJPROP, AMARAJABAT, JINDALSTEL, RAMCOCEM, BEL, EIHOTEL, HAL, SUNTV, GSPL
Small Caps (Top 250 Only) : OMAXE, NETWORK18, INFIBEAM, GMMPFAUDLR, ANDHRABANK, INDOSTAR, JSWHL, BHARATRAS, HFCL, SIS, JMCPROJECT, MASFIN, TCIEXP, TRIDENT, SUNCLAYLTD