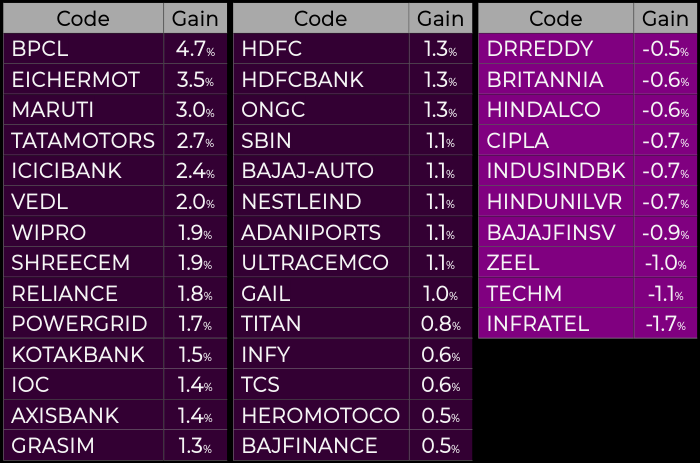 Today market started with a good note with both Indian share market indices up around 1% during the morning trade. Stocks like BPCL, Eicher Motors, Maruti, Tata Motors, Icici Bank and Vedanta up more than 2% while Infratel, Tech Mahindra and Zee down more than 1%.
Gainers : BPCL (4.7%), EICHERMOT (3.5%), MARUTI (3.0%), TATAMOTORS (2.7%), ICICIBANK (2.4%), VEDL (2.0%), WIPRO (1.9%), SHREECEM (1.9%), RELIANCE (1.8%), POWERGRID (1.7%), KOTAKBANK (1.5%), Losers : INFRATEL (-1.7%), TECHM (-1.1%), ZEEL (-1.0%), BAJAJFINSV (-0.9%), CIPLA (-0.7%), HINDUNILVR (-0.7%), INDUSINDBK (-0.7%)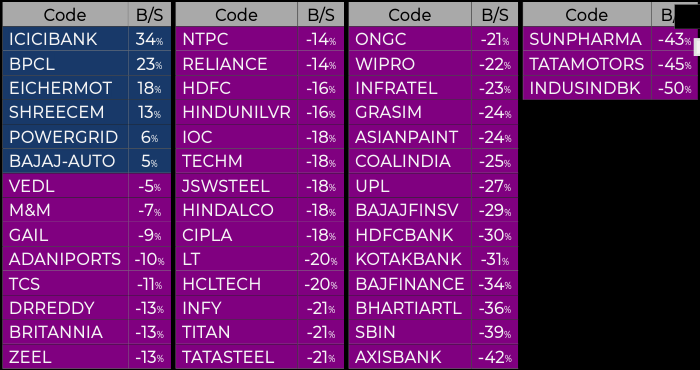 In Buy vs Sell bids list more stocks are with strong sell bids So overall markets may come down by afternoon if there is no positive news from Europe and Dow Futures.
Top Buy Bids : ICICIBANK (34%), BPCL (23%), EICHERMOT (18%), SHREECEM (13%), Top Sell Bids : INDUSINDBK (-50%), TATAMOTORS (-45%), SUNPHARMA (-43%), AXISBANK (-42%), SBIN (-39%), BHARTIARTL (-36%), BAJFINANCE (-34%), KOTAKBANK (-31%), HDFCBANK (-30%), BAJAJFINSV (-29%), UPL (-27%)
No Volume Gainers in first one hour trading only wipro managed float in the positive side : WIPRO (11.0%), BPCL (-34.0%), BRITANNIA (-44.2%), HCLTECH (-49.8%), UPL (-57.7%), ADANIPORTS (-59.3%)
Major Recoveries Today : BPCL (5.2%), EICHERMOT (3.0%), MARUTI (2.4%), TATAMOTORS (2.3%), IOC (2.1%), SHREECEM (1.7%), VEDL (1.4%), Major Drops Today : INDUSINDBK (-2.8%), INFRATEL (-2.7%), TECHM (-2.6%), BAJAJFINSV (-2.3%), UPL (-2.2%), WIPRO (-2.1%), ZEEL (-2.0%), HINDALCO (-1.9%), TATASTEEL (-1.8%), BHARTIARTL (-1.8%), CIPLA (-1.8%)