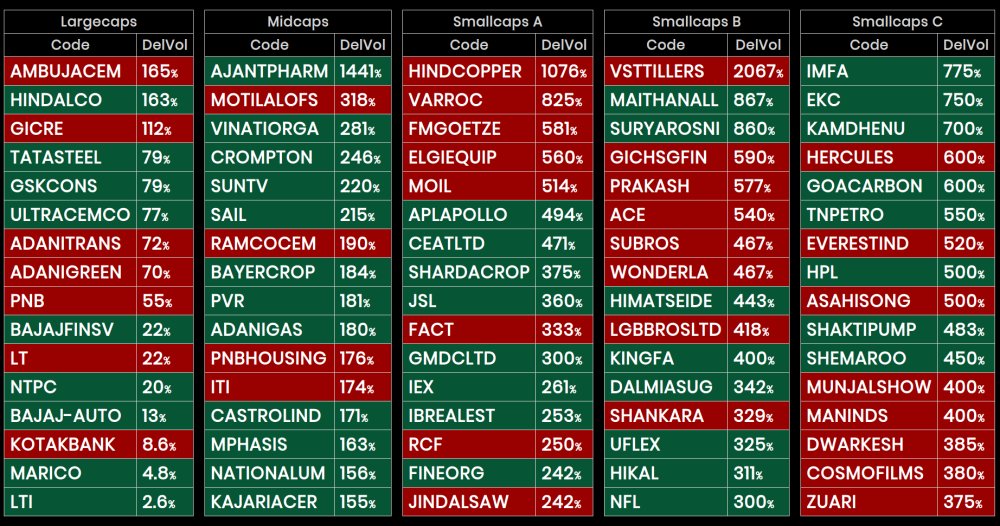 Normal volume data from stock markets include all trades including day trades. For large caps and mid caps most part of their trades are day trades. So we cannot really rely on that volume data for accurate calculation whether the stock is really getting good money or not.
Here we excluded day trades volume and considered only volume for delivery trades which gives a better picture about the trades and volume.
In large caps stocks like AMBUJACEM, HINDALCO, GICRE, TATASTEEL, GSKCONS, ULTRACEMCO, ADANITRANS, ADANIGREEN and PNB traded with good volumes on 14th Jan 2020 as per delivery terms.
In mid cap stocks AJANTPHARM, MOTILALOFS, VINATIORGA, CROMPTON, SUNTV, SAIL, RAMCOCEM, BAYERCROP, PVR, ADANIGAS, PNBHOUSING, ITI etc were investors favorite choice yesterday and traded with high volumes by end of the day. Also note that some are closed in red with high volumes and which denotes a negative sentiment in the stock.
In first 250 small cap stocks CASTROLIND, MPHASIS, NATIONALUM, KAJARIACER, HINDCOPPER, VARROC, FMGOETZE, ELGIEQUIP, MOIL, APLAPOLLO, CEATLTD, SHARDACROP and JSL traded with heavy volumes in delivery terms.
In next set of smallcaps VSTTILLERS, MAITHANALL, SURYAROSNI, GICHSGFIN, PRAKASH, ACE, SUBROS, WONDERLA etc traded with heavy volumes. Also note some are in deep red with high volumes.
In lower end smallcaps IMFA, EKC, KAMDHENU, HERCULES, GOACARBON, TNPETRO, EVERESTIND etc traded with high volumes excluding day trades.